Meet the Team at Fossil Creek Dental Partners
The Team
Back Row: Debbie LaPenna, RDA, Peggy Potts, RDH, Kelly Martinez, RDH, Amanda Rhodes, RDA, Cindy Hogue, RDA, Holly Arendt, RDH
Front Row: Connie Lane, Tracey Cipriano, CDA, RDA, Stacie Edmiston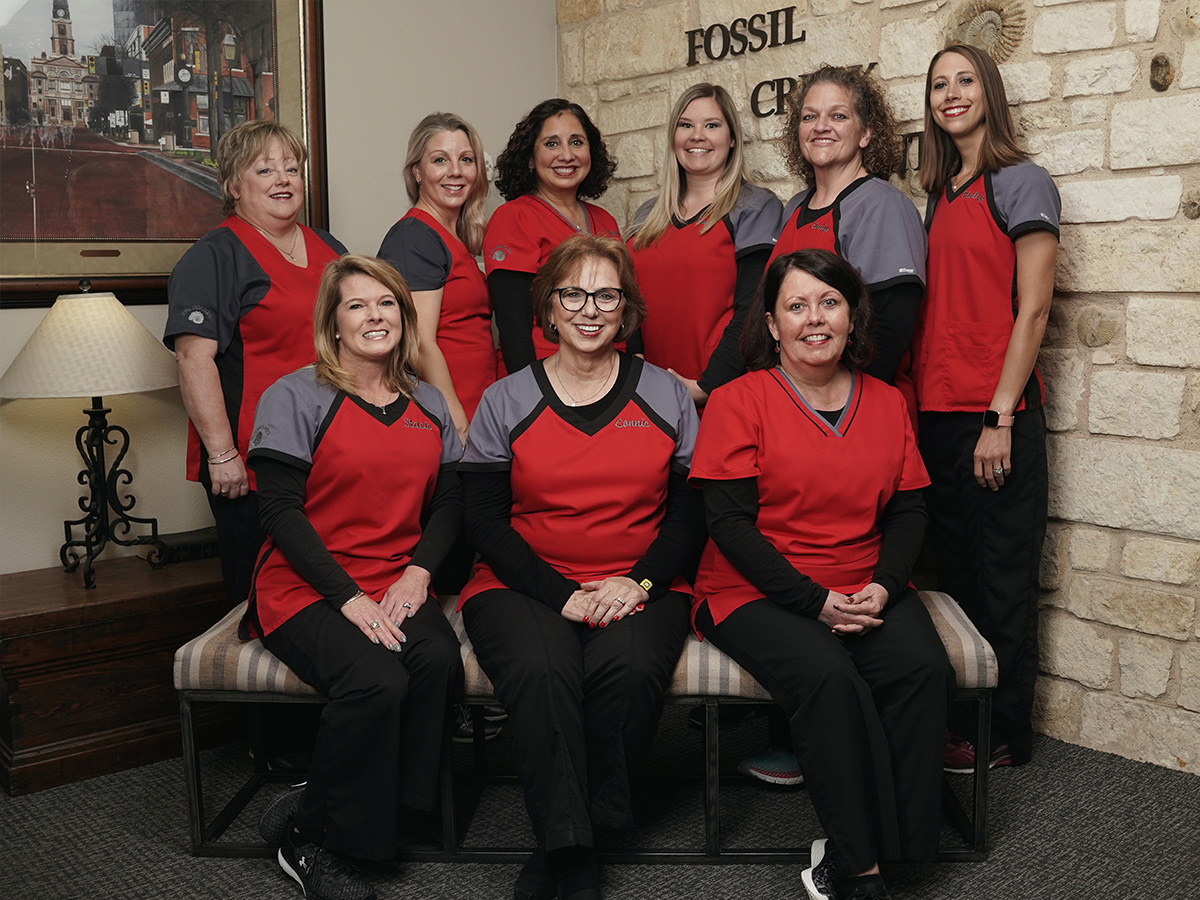 Debbie LaPenna, RDA

Office Manager
Debbie has been on our team since 2002. She handles all of our insurance claims, and assists the doctors when needed. She is married with three children, and three grandchildren. Debbie spends the majority of her spare time with her family. She is also very active in her church.
Stacie Edmiston, RDA

Director of First Impressions, Insurance Coordinator
Stacie is the first face you'll usually see when you walk in. She will greet you warmly when you walk in and be the main contact for appointment confirmations. She's married and has two children. Her time is filled with all of their activities as well as being involved at her church. Reading, traveling and baking goodies are favorite pastimes.
Kelly Cain, RDH

Kelly joined our team in 2012. She graduated with an associates inDental Hygiene from Tarrant County College in 1982. She is recently married, and has 4 beautiful daughters. In her spare time, she enjoys an occasional "girls night out" and traveling. Since her marriage, she has been forced to attend several OSU games (but she bleeds burnt orange.)
Angela Brown, RDH

Angela is our newest team member, who moved to Texas from Virginia in 2009. She brings 20 plus years of experience to our practice. She spends the majority of her spare time with her two daughters and resides in Keller.
Holly Arendt, RDH

Holly joined our practice in 2007. She attended Texas Women's University, where she received her degree in Dental Hygiene. She was born and raised in Fort Worth, and now lives in the area with her husband, daughter, and 2 dogs. Holly enjoys running, cycling, doing anything outdoors, and spending time with her family.
Tracey Cipriano, CDA, RDA

Tracey joined our team in 1999. She has been a dental assistant since the mid '80's. Tracey is very active at her church. She also enjoys outdoor activities with her husband and Golden Retreivers. Tracey began her dental career in North Carolina, but considers herself a true Texan in every sense of the word.
Cindy Hogue, RDA

Cindy has been with us since 2001. Cindy has a very busy college age daughter that, in turn, keeps Cindy very busy. When not working, Cindy is volunteering at school functions. Cindy is a hard worker and a very involved mother.
Kathryn Sturgeon, RDA

Kathryn is the newest member of our team. She has two children. She enjoys spending the majority of her spare time with her family and off-roading.